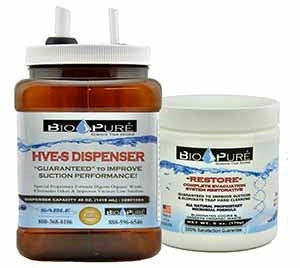 BIO-PURE eVac System Restore Kit (Powder)
Bio-Pure eVac System Restore Kit (Powder), Includes: 2801005, 6oz Restore & 2801004, 48oz Dispenser. (For New Users!)
67 Single Op Treatments per Container.
It is recommended that every dental office starts off with a Restore Starter Kit for best results on a daily basis. Once the restore starter kit is completed, your team can then transition to our liquid or powder maintenance formulas.
Bio-Pure Restore Starter Kits comes in 3 different formulas:
End of day powder

End of day liquid

Between Patient Flush liquid
General Offices
The majority of dental offices should start off with our end of day powder or liquid formulas. And they can also use our Between Patient Flush formula after bloody procedures as needed (optional).
Specialty Offices
Oral Surgeons, Endodontists, Periodontists, and Implantologist (etc) on the other hand should start off with our liquid Between Patient Flush formula daily in every Op. at least 1x daily between patients to eliminate the need for end of day cleaning.